When I heard, "I need your help. I can't get the elephant out of the printer", I knew exactly what our librarian was referring to.
I first heard the term "makerspace" around four or five years ago. I will admit that, approaching my 30th year in classrooms, I found the whole concept somewhere between laughable and ridiculous. But now, I will also happily admit that I'm a convert. 
For those of you unfamiliar with the terminology, the Maker Movement is what we (or at least I) might call a multi-car pile up of vehicles that includes DIY, hacking, arts and crafts, engineering, coding, electronics and even hobby modelling, but these are just a few of the many 'sub-cultures' involved.
In an educational setting, 'making' is a technology driven response to the widespread absence of 'doing' in many classrooms. In essence, it's what psychologist Jean Piaget and other 'constructionists' see as experiential learning. American educator Gary Stager, author of Invent to Learn, reminds us that we are fortunate that: "this maker movement overlaps with the natural inclinations of children and the power of learning by doing".
Make sure you access Stager's website inventtolearn.com for more information on this.
It's no surprise that hands-on learning is far more common in primary classes but it is certainly making inroads into high schools such as my own. Much of the impetus is coming from teachers of STEM (science, technology, engineering and mathematics) subjects but also from teacher librarians. Indeed, the initial proposal for a makerspace at Faith Lutheran College came from our librarian, Kerry Schwier. 
As Faith's eLearning manager, I was a natural ally in convincing leadership that a makerspace could help students to develop high levels of creativity, innovative thinking and collaboration. 
Our makerspace was launched at a full school assembly via a short movie, which aimed to hook the students by showcasing cardboard robots and banana bongos. (To learn more about these; read on). This past term we have operated twice weekly during lunch breaks in the library; a location which is, after all, being continuously re-purposed.
One of the best aspects of creating a makerspace is the fact that you can start out small and mobile. In 2016, I'm delighted that we will have a fully decked-out, dedicated room that can be accessed from the library. But it comes at a cost; we have already accepted that we will be operating far more often, including after school and possibly on weekends.
Our first participants were the typical lunchtime library dwellers and many of them have attended every day. But our numbers are slowly growing as the word spreads. Of course, there are also the fringe dwellers who observe but wait for an invitation to join in. It is most heartening to see students who struggle academically succeed at making and proudly take away their creation.
So, what do you need to get started? You certainly don't have to spend money at first. We gathered together some PVC piping, old CD cases, empty soft drink bottles, graph paper and the staple items such as scissors, glue and marker pens. It is also a good idea to start out with a couple of easy builds that students will find to be both fun and achievable in a short time.
You will find countless YouTube clips that take students step-by-step through the creation of items such as Marshmallow Shooters and 3D Smartphone Hologram Projectors. We started with these to great success; and they were the first two inclusions in my YouTube makerspace playlist. Most impressively, the students were soon devising improvements to these devices. View the 
Marshmallow Shooter video here: edhq.co/1NeScA3 and the Hologram Projector video here: edhq.co/1SpFcMm.
Of course, if you have money to spend, then there are few better places to start than with Makey Makey and Raspberry Pi kits. But for less than $50, a Makey Makey kit, composed of a simple circuit board, a number of alligator clips and a USB cable, provides all that you need to invent. By connecting to makeymakey.com you can turn fruit, cardboard or even Play Doh into musical instruments (like banana bongos) or game controllers. 
Of course, these are just simple projects for beginners; the real genius of Makey Makey is to be found in the creativity of your students. Later this year, you will also be able to purchase, for around $30, the new Makey Makey Go, which is ultra-portable, given that it is only the size of a flash drive … awesome!
It was at EduTECH 2015 that Dan Haesler, a regular columnist for Australian Teacher Magazine, suggested that we need to give every kid a Raspberry Pi. Though more expensive, Raspberry Pi kits open up many more possibilities, including the ability to learn programming in languages such as Scratch.
For little more than $100, you can get what the creators aptly describe as a "credit-card sized computer that plugs into a computer monitor or TV, and uses a standard keyboard and mouse".
On the excellent Raspberry Pi site you will discover that the kits can be used to make music machines and parent detectors, weather stations and tweeting birdhouses with infrared cameras. I no longer need the parent detector but there is a certain appeal in creating the birdhouse for my own backyard, which is frequented by Eastern Rosellas.
Thanks to my connection via Twitter with Johnny Zheng (@MacintoshAddict) I was able to arrange to borrow a Sphero for the early weeks of our makerspace. I was astonished to discover that a number of students already owned this app – a controlled robotic ball which can be powered by iOS, Android and Windows.
Most viewed it as a toy and a fun one at that, but as Zheng pointed out to me, Australian schools are yet to embrace the educational possibilities of Sphero. I've certainly budgeted to buy a number for the 2016 iteration of our makerspace. The creators of Sphero have an extensive online presence, including their own excellent education program, but you might want to begin by simply watching their promo at edhq.co/1WwULrd. Then you can move on to discover Ollie, Sphero SPRK and the highly anticipated BB-8. (Yep, the cute little droid from the soon to be released seventh Star Wars film. I don't want one … much!)
Now, of course, we also needed a 3D printer. Our MakerBot Replicator Mini Compact 3D Printer and Scanner most certainly didn't come cheap but it is the ultimate maker tool. The MakerBot Thingiverse is an online space provided for discovering, printing and sharing free 3D models (see thingiverse.com).
You can print dollhouse furniture, dragons, lunar landing modules, an entire model city or, you guessed it, a tiny little elephant. However, from my viewpoint, the next era of 3D printing in schools will belong to networks such as Enabling The Future (enablingthefuture.org).
e-NABLE was started in 2013 by research scientist, Jon Schull. This global community of volunteers, many in schools, uses 3D printing technology to provide part or entire prosthetic hands for children in need. A prosthetic hand can cost anywhere between $8000 and $40,000, but with a 3D printer all you need is the inclination, the time and less than $50 in materials. If your classroom doesn't have a 3D printer then there are numerous other ways to become involved, as we intend, with this inspiring charity.
So, what else do we have on our 2016 making agenda? Most definitely constructing a drone, playing with Lego and inviting parents to a showcase of our inventions. Then there is the entire world of what is now called upcycling; the re-purposing of old, discarded or damaged items into new, higher quality creations.  As titular head of IT I even donated several old desktops to myself! I certainly hope to provide an update on our progress next year, so stay tuned... 
Australia already has several public makerspaces and a growing number of both maker fairs and online communities. These may be a part of your future as a maker but, in the meantime, just remember, if you build it, they will come and then build themselves.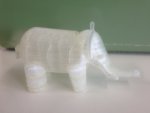 Oh, and as for the elephant, we did rescue him from the printer, as this photo attests.