Virtual reality is quickly becoming a tool that individuals are enjoying at their own leisure and businesses are using professionally, both in-house and as a professional development tool. However, it is within education that virtual reality is taking the classroom experience to a whole new level.
What is Virtual Reality (VR)?
The technical definition of VR is that it is an artificial environment that is created with software and presented to the user in such a way that the user suspends belief and accepts it as a real environment.
On a computer, VR is primarily experienced through two of the five senses: sight and sound. It is essentially experiencing a real-life experience through the use of a computer which makes you feel like you are actually standing in the room and actually seeing and touching the things that you see. It's almost like watching a 3D movie that projects objects at you.
How can Virtual Reality be used in the classroom?
I began using VR more than a year ago when Google Cardboard came out. I didn't purchase the kits, but found some great websites that showed me how to make the Cardboard head piece, which was both cost effective and easy to do. My students and I had a great time making them and then using them. More importantly, these could be modified to suit the size of each student's mobile phone.
Recently, as technologies have advanced, I purchased a rather inexpensive VR headset which led to the purchase of a class set for students to experience a number of learning opportunities. 
My Stage 6 multimedia (industrial arts) class use the VR headsets to learn about and develop their own animation and motion pictures. By using the headset, students are able to grasp a clearer idea of how to create their own work that would support cinema vision viewing. They are also able to develop their skills in creating action movements such as explosions and other special effects.
The VR headset is also being used in my Year 9 IST (information technology) class for students to attend virtual excursions. Coinciding with the topics learned in class, my students can experience any location in the world as though they are actually there.
There are thousands of apps that can be downloaded onto iOS and Android phones that each have hundreds of locations that your students can visit. In this class, my students are spending some time visiting locations where technology is prominent, such as places that include roller coasters, high tech computers and much more. 
In our French classes, students have visited the Eiffel Tower. They have claimed that the experience was so life-like, that they could see the view from the top of the tower and had the feeling of actually being there.
The benefits of using Virtual Reality in the classroom
There is a lot of supporting data that states that VR is of benefit in the classroom. Studies show that a virtual environment can "stimulate learning and comprehension, because it provides a tight coupling between symbolic and experiential information". This is a great way to increase knowledge and understanding.
Additionally the use of VR experiences can be used to achieve the "feel" and "understanding of the qualitative dimensions of the phenomena they study", providing a foundation for students' conceptual and higher-order learning.
I have discovered that VR allows students to learn from a non-symbolic first-person experience. As they are able to enjoy the excursion or activity as though they are actually there, students are capable of mastering the concepts that lie at the heart of ICT, concepts they could not possibly learn in the classroom without such technology.
It also encourages students to think outside the square and consider how they can create VR experiences of their own for their peers as part of their class work or assessment tasks. This can be accomplished by students completing extreme close-ups of their projects, for instance, a microscopic insect or technical component of a computer. 
I have also found that VR motivates students. Their attitude towards VR as a tool in the educational process, and towards virtual learning environments in these various KLA's is extremely favourable. This is perhaps because it requires interaction and encourages active participation rather than passivity.
This could be due to the fact that it permits students to work through an experience during a broad time at their own pace. In a collaborative space, VR can assist with text access, providing equal opportunity for communication with students from other cultures and allowing the students to take on the role of a person in a different culture.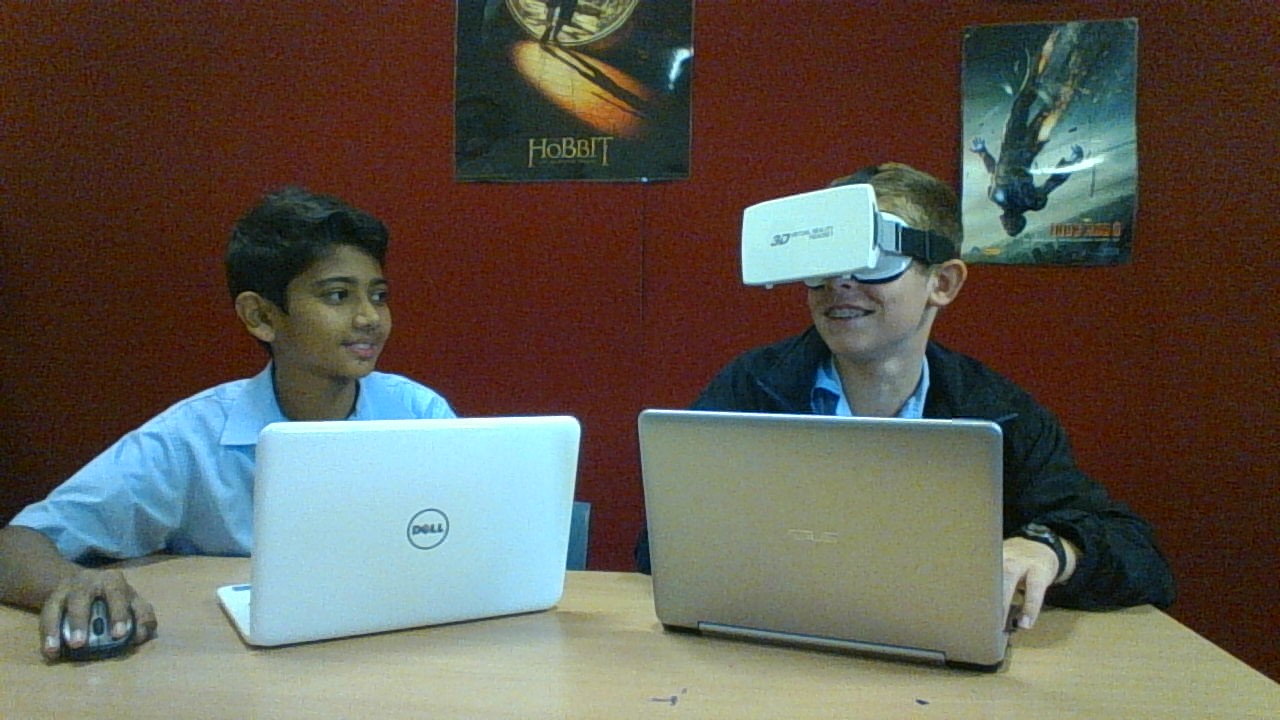 Researchers who have used VR in their own teaching experiences such as Mantovani (2001) discuss the potential benefits of the use of VR in education and training. These include visualisation and reification, an alternate method for presentation of material; learning in contexts impossible or difficult to experience in real life; motivation enhancement; collaboration fostering; adaptability, offering the possibility for learning to be tailored to learner's characteristics and needs; and evaluation and assessment, offering great potential as a tool for evaluation because of easy monitoring and recording of sessions in a virtual environment.
I used the Google Maps app when using the VR headset and found that students could go into more detail about the terrain and the locations that they were to research. Additionally, the maps that they were to recreate using Adobe Photoshop were far more comprehensive than those provided for students I have taught in the past, whom had completed the same activity but had used Google Earth downloaded on a typical PC. The VR headset in this instance permitted my students to go inside the location, walk around, and become familiar with its parts. It also provided students with a different perspective on the interconnections between buildings, streets and open areas.
VR can change the way a learner interacts with the subject matter. The participant who interacts with the virtual environment is encouraged to continue interacting by seeing the results immediately. VR provides an opportunity for the learner to make discoveries previously unknown. New perspectives are made possible by modelling the real world, and studying the model can provide insights never before realised.
Attaining classroom and course outcomes using Virtual Reality
Not only does VR allow for the attainment of syllabus outcomes, but I have found that it also permits students to develop their literacy and numeracy skills, as well as attain other cross-capabilities. This is because the type of instruction associated with using this technological tool develops the cognitive skills and attitudinal skills of students.
This is perhaps due to the fact that the simulations that VR provides are authentic and relevant scenarios, and make use of pressure situations that tap users' emotions and force them to act, they provide a sense of unrestricted options and they can be replayed.
It has also been found that VR contexts contend that "students should know that simulations make it possible to explore new domains, make predictions, design experiments, and interpret results".
My recommendation is that if you have access to a VR headset, whether it is a Google Cardboard or another authentic device, as an educator, you should try it. You will quickly realise the potential of this fantastic technology and be able to use it regularly to support the teaching and learning of your students, regardless of their age, ability level or KLA.  
Noelene Callaghan is a teacher at Glenwood High School, Honorary Treasurer of The Teachers Guild of NSW and a Microsoft Innovative Expert Educator.