It's early afternoon and nine-year-old Sarah* shifts on the floor, shaking off a leg cramp. She pulls her headphones down tighter against the noise of the classroom, leans forward to finish writing her sentence. 
This isn't reading time or a new activity. Sarah couldn't get a seat today. This is where the Year 4 student at North Melbourne Primary School works almost every day of the week.
With preps learning in corridors, teachers sharing classrooms and desks crammed onto balconies, North Melbourne made headlines last month as parents took their overcrowding concerns to the media.
But the school, which claims its "flexible learning spaces" deliver best practice education, is far from an isolated case.
An EducationHQ investigation found "unprecedented" population growth, lack of transparency around building regulations and a history of poor school planning across both sides of politics are all contributing to overcrowding in classrooms like Sarah's.
Just across town, Albert Park and Port Melbourne primary schools face similar problems. With portables squatting on their ovals, the schools are forced to run lunchtime on a roster or lead students down the road to the local park "to kick the footy around". At Port Melbourne, a site designed for 250 children now has 762.
Welcome to the first years of Victoria's great student boom. According to analysis by the Grattan Institute, there will be an estimated 650,000 more Australian school students in 2026 compared to today – an increase of 17 per cent. The majority of demand is in Victoria and New South Wales where high density living is exploding as families stay close to their city's heart.
Yet, while a hard-fought campaign for better school planning by NSW parents is finally starting to see results, in Victoria the battle is only just getting started.
 "The Victorian population, specifically in Melbourne, is the highest of all so we are facing the issue more acutely than anywhere else," Grattan's School Education Program Director, Peter Goss, tells EducationHQ.
In the early 90's, relatively low population growth led both the Kirner and the Kennett governments to close 350 schools across the state. Now, in the coming decade, Goss predicts Victoria will need to make room for around 179,215 extra students. That will mean building between 140 and 220 new schools, depending on how well existing schools are able to absorb those numbers.
Education Minister James Merlino says the government is bracing for an additional 90,000 students in Victoria over the next five years. But, with a new primary school set to open on Ferrar Street in South Melbourne in 2018, he insists they're well on track to "build the Education State".
"We now have 42 new schools in the pipeline thanks to our record investment in school infrastructure," Merlino tells EducationHQ. "This follows record low investment … by the former Coalition Government, who failed to invest a single cent in school infrastructure in the City of Melbourne during their entire four years in government."
Goss says the Minister's office is "clearly thinking carefully about where the schools should go" but added that: "investment [must be] the new normal."
 "We shouldn't think of this level of investment as being a one off boost that will make everything OK and then we go back to lower investment ... We need to be investing heavily in social infrastructure including schools on a year in, year out basis and I think that's where governments of all political persuasions have been playing catch-up."
---
With less schools and more demand, inner-city communities say that game of catch up has barely started. Some observers like academic Lea Campbell are even asking the question: is it better to be a chicken in Victoria than a public school student?
"You'd have more range in terms of square meterage than a public school," says Campbell, who is also a cofounder of the lobby group Our Children Our Schools.
"There's regulation for animal welfare but there isn't regulation for kids' welfare in terms of minimum standards for kids per square metre."
At Port Melbourne, principal Peter Martin matter-of-factly calls his school "a sardine can". It's the same thing he tells new teachers in job interviews. And there's always a lot of those at the start of the year - the school has been expanding by at least two classes each year for the past seven.
"The more children you put in a confined space the more chance someone will trip over someone else and burst into tears," Martin says. "The sick bay's probably busier than a standard school of this size."
And yet he adds: "There's no regulation saying they couldn't put 40 people into a small portable classroom."
Relocatable classrooms are each designed for roughly 25 students.  The Department of Education and Training (DET) confirmed to EducationHQ that, "unlike childcare centres, Victorian schools do not have a minimum area per student".
DET spokesperson Alex Munro says: "The number of enrolled students determines the size, number and type of facilities a school provides, which includes relocatable classrooms."
It was this lack of space regulation that parent Julie McLennan found so "mind-boggling" when she first started complaining about conditions for the Year 4s at North Melbourne.
As an architect by trade, McLennan was familiar with the strict standards regulating minimum space per child for childcare centres.
So when she saw all 104 students in her child's year were sharing a space designed for just 50 students, she did some digging. 
"Given I know a bit about it from other building types and other projects, I've been astounded by how few standards there are and even just how few standards there are for OH&S for children as opposed to work," she tells EducationHQ.
"And I mean children have no union. People might inspect buildings on behalf of teachers but who is doing that for children?"
Under the National Construction Code, portable classrooms are exempt from normal building and planning permits if "the building or building work will not adversely affect the safety of the public or the occupiers of the building".
Standards are instead set and maintained by the department itself. When McLennan looked for them, she found they were no longer public record.
"Everything comes back to [The Department of Education], there's no other watch dogs."
While school buildings can be inspected by WorkSafe to keep them compliant with workplace standards, Munro confirmed they are not assessed in terms of class size.
North Melbourne's Year 4 classroom, which sits above the school library, is approximately 140 m2 . With more than 100 students using the room, that allows for a space of roughly 1.3 m2 per child.
On the North Melbourne parents group's website, McLennan writes: "that is double the maximum density recommended in Victorian classrooms and falls well short of the international minimum of 2 m2 per child."
By the group's calculations, the classroom even falls short of standards in third world countries such as Africa which are currently 1.4m2.
Three parents who contacted EducationHQ but did not wish to be named voiced further concerns for their Year 4 children, who have been working with just 20 chairs and five tables between for most of the year. Problems around postural strain, falling education standards and excessive noise had all been raised repeatedly with school management since the beginning of the year.
"It's quite confronting to see the way they're being forced to work," one parent says.
"It's a great school … I've never once complained about anything until this year," says another. "And now we've been banned from talking to the teachers … there are signs on the classrooms saying 'these are parent-free zones'."
Correspondence obtained by EducationHQ indicates that the Department's internal standards for portables advise around "60sqm per teaching space" or "approx. 2.4sqm/student".
Yet, despite its size and further claims that desks installed on the balcony violate the fire code, Munro said the Year 4 building at North Melbourne complied with both DET standards and the National Code of construction.
EducationHQ contacted North Melbourne principal Sally Naylor but she was "regretfully … unable to comment on perceived overcrowding".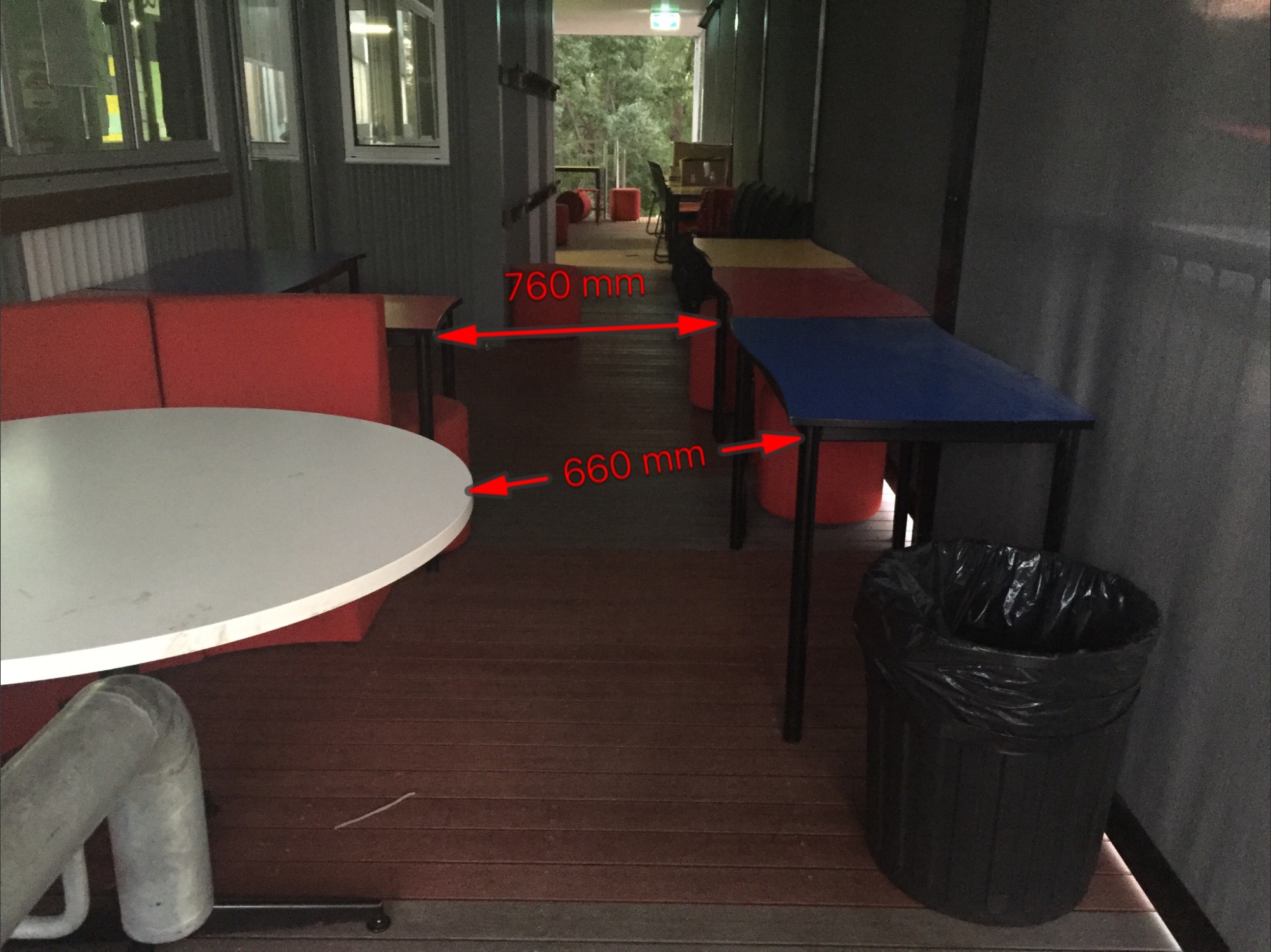 Now, after months of being "stonewalled", parents at the school say they are finally seeing results.
This month, the state government will supply eight additional classrooms in the form of two double-storey portables.
 "The first building will be ready for classes in July and the second in August," Munro says. "The two buildings will provide 200 additional spaces at the school."
While parents have welcomed the announcement, McLennan says DET still needs to address some of the safety concerns that arise from "racking and stacking" portables on small city sites.
"It's such a short term solution," she says.
---
Over in Docklands, Janine Standfield, the parent representative for the Docklands Community forum agrees. Standfield has been lobbying since 2011 to find a school for her young son and argues students in the city need playground space even more than those out in the suburbs "with big backyards".
"In my first meeting with the Department, they were trying to tell me [the high enrolment numbers were] a blip," she tells EducationHQ. "And it's like 'it's not a blip, you've just seen the current census. It's not a blip and people aren't just going to move out of the city, you've got people who want to live in the inner city'."
Just a month before he was due to start school, Standfield's son was at last accepted into Carlton Gardens Primary - his sixth closest school. But, facing a hellish commute across the city each morning to get him to class on time, she instead enrolled him in a Catholic college.
"Where I am in the Southern end of Docklands, it's 45 minutes to 50 minutes diagonally through the city in peak hour or it's two trams and a long walk for a Preppie," Standfield says. "It's a disgrace."
With nearby Port Melbourne and North Melbourne primary schools over capacity, other Docklands families have faced similar headaches finding schools.
City Schools 4 City Kids is a group of around ten Docklands mums campaigning for a school in the area, led by Denise Fung-Henderson and Michelle Styles.
"There's kindergartens, there's parks, the libraries are beautiful – we're just missing a school," Fung-Henderson says.
The first stage of a recent government review into school provision in the Docklands area agrees with Fung-Henderson's sentiment – but not her urgency.
While acknowledging that enrolment numbers in surrounding schools are increasing dramatically, the report says opening a school in Docklands will not be a priority until 2031.
Both Standfield and CitySchools4CityKids have raised concerns with the enrolment projection data used in the report, describing it as "flawed".
In a "review of the review" submitted to Merlino by City Schools 4 City Kids, the 2016 enrolment numbers of several nearby schools included in the report, such as Port Melbourne, Albert Park and North Melbourne, were found to be inaccurate.
"We as mums from the area up from South Melbourne to North Melbourne, we actually looked at the graph and then we called up different schools and asked their current enrolment and quite a number of them show that the report's numbers are off, some by miles," Fung-Henderson says.
Port Melbourne, for instance, was listed as having 536 students in 2016. In reality, the school is fast approaching its 2026 DET forecast of 880.
"Well, they're only out by 230!" Principal Martin laughs, before adding: "Every report that I've seen has under-predicted where my enrolments will be."
Standfield, who sat in on meetings with DET and City Schools 4 City Kids to discuss the data anomalies, says the Department did not dispute their findings.
Places Victoria and City of Melbourne are also understood to have raised private concerns over the data, which did not include their own projections.
A spokesperson for the City of Melbourne told EducationHQ the council welcomed the opportunity for input into the review and was "committed to continue working with the Victorian State Government on school provision within the municipality, particularly in Docklands".
Shadow education spokesperson Nick Wakeling says he has yet to hear an answer as to why the former Coalition Government's 2012 report into school provision for Docklands was not used by the Andrews Government. 
"This government's response when they came to power was to do a new report, change the parameters of what they're saying, they're now not looking at doing anything until 2031," Wakeling tells EducationHQ. "I think there's clearly questions about the data in the report and the government to date has not provided an answer … and this was a report commissioned by the government for the government."
Of course, it wasn't so long ago that a Labor opposition were raising similar concerns about the former Coalition government – most notably the failure of then planning minister Matthew Guy to zone adequately for schools in the new development Fishermen's Bend. But Wakeling's words echo growing community frustration around a "a lack of transparency" by the Department.
At DET, Munro says the Docklands review used school census data collected in February, while the MySchool data referenced in the group's response used census data collected in August.
"It is normal for minor changes in enrolment to occur between February and August, which is generally attributable to students moving between schools or areas," he says.
According to City Schools 4 City Kids, the numbers could also be out for another very simple reason.
Fung-Henderson was in Docklands' very first mothers' group back in 2007. Eighty per cent of those families have now been "forced out of the area" in their search for schools, she says.
"For every family that chooses to stay, there are at least three or four families that choose to move out because of the school issue."
Merlino did not comment on the data used in the report, but says the South Melbourne primary school would be "the first school built to help service the Docklands community".
While The Australian Education Union (AEU) has welcomed Labor's "record" investment in school infrastructure, Victorian president Meredith Peace admits it's disappointing that a new school will not be opening this year in Victoria.
The AEU hears constant concerns from schools about overcrowding in both Victoria's inner city and growth corridors and has taken particular issue with what they consider to be an "excessive use" of portables.
"I think one of the frustrations around buildings is there's not a lot of transparency in the process about what schools are resourced, what area gets a new school, and the school community get frustrated when they're not clear about what process governments and departments use to decide who gets the money," Peace tells EducationHQ.
Fortunately, she says, with a growing number of teaching graduates entering the workforce, the AEU is confident there will be enough teachers to meet demand.
---
Now five years into the fight for a Docklands school, Standfield is also looking forward. She says the government might have some "wriggle room" with primary education, but "the battle is still on for secondary".
"The year that my boy goes to Albert Park College 900 students will miss out, that are already in a very small catchment zone."
At Port Melbourne, Principal Martin says he's hearing reports from Albert Park College, which has more than 1200 enrolments on a site redesigned for 950, of students being "farmed out to places as different as the Port Melbourne life-saving club and the foyer at Princes Pier".
Parents say the Department is currently considering bussing Docklands students to Mount Alexander Secondary College in Flemington, which is currently well below capacity.
"And for the two years while they're building a school fair enough," Standfield says. "But they're talking about 10 plus years – that's two generations of kids...What happens when it fills up?"
Back at the Grattan Institute, Goss remains adamant that short-term fixes will not solve the problem.
"There seems to be a lot of poorly thought through planning around school provision in places like Docklands, in places like Preston," he says. "Because of inertia within organisations, I think we've stayed in the mode of not investing for longer than we should have done, that's where the demographic bubble that was coming through should have been recognised."
But, while he believes greater transparency within the Department will see "better decisions made", Goss is reluctant to lay the blame wholly on DET's shoulders.
"I think that to get this issue right requires not just good planning but also a willingness to spend money in places that need it," he says. "The Department is essential to help lead us to a place where it's a stronger planning process."
Martin, meanwhile, traces his school's overcrowding problems back to the early part of the century "where both sides of the political fence dropped the ball".
"In the Kennett years, there were four local school campuses closed within three k's of where I'm sitting at the moment," he says. "Those sites have all been turned into upper class residential units in beautiful old school buildings which we can't access"
Over the past few years, however, the principal says "the penny has dropped" and, in lead up to the last election, both parties were pledging schools for South Melbourne and Port Melbourne.
"[Those schools] will ease the pressure significantly in the short term … we may even get as low as 600," Martin says. "But then we believe the numbers will rise again and go past 800 towards the thousands … The Department of Education themselves are suggesting that in five years our numbers will be back up over the 800's again."
Fung-Henderson says the planned schools won't solve the problem for Docklands families either.
"We don't want to be secondary citizens in different communities – those schools are being built to cater for their own community."
Clearly, getting out of Victoria's great schoolyard squeeze won't be easy for any government, Labor or Liberal. With expensive land in high demand areas now needing to be bought back, Goss says a long-term bipartisan plan is "massively important".
"[It] will be cheaper in the long term," he says. "It will cause less political angst and by doing so, because there's not pressure of parents who feel they can't get their children into a school, it allows state level discussion to focus on 'how do we make every school a great school, how do we make quality education?'... rather than pork-barreling."
The Coalition's Nick Wakeling admits "governments of all persuasions could work together on school planning".
"Have governments made errors in the past? Absolutely they have!" he says. "That's not an excuse for governments not doing something about it in the future."
Just how much longer the sins of Victoria's past school planning will haunt the future of its students remains unclear.
But, for now at least, inner-city mums like Julie McLennan, Denise Fung-Henderson and Janine Standfield remain as frustrated as ever.
"We still need a school in the middle of the state and if you want the state to be called the 'Education State' you have to fix this problem," Fung-Henderson says.
"If you look at the map, there's a giant hole in the middle. And that's ridiculous. You can't call this place an education state, it's embarrassing!"
* Not her real name.
Have you experienced overcrowding or another issue in schools you think needs to be brought to attention? Contact us at news@educationhq.com