A flyer has been distributed to schools that compares Coalition and Labor policy on the amendment of the Sex Discrimination Act to remove exemptions for religious schools.
These exemptions allow religious schools to hire or fire staff on the basis of their sexuality or gender identity, among a range of other factors.
In an email marked 'URGENT', CSA has requested that schools distribute the flyer to parents.
"Labor has indicated that as part of their policy intention they will remove the ability for your schools to employ staff who share and live out your values and beliefs," the flyer reads.
The flyer goes on to tell parents that "your vote in the House of Representatives will help decide who forms government and what direction protecting our beliefs, values and freedom takes".
The flyer claims that these religious exemptions also protect what Christian schools are allowed to teach.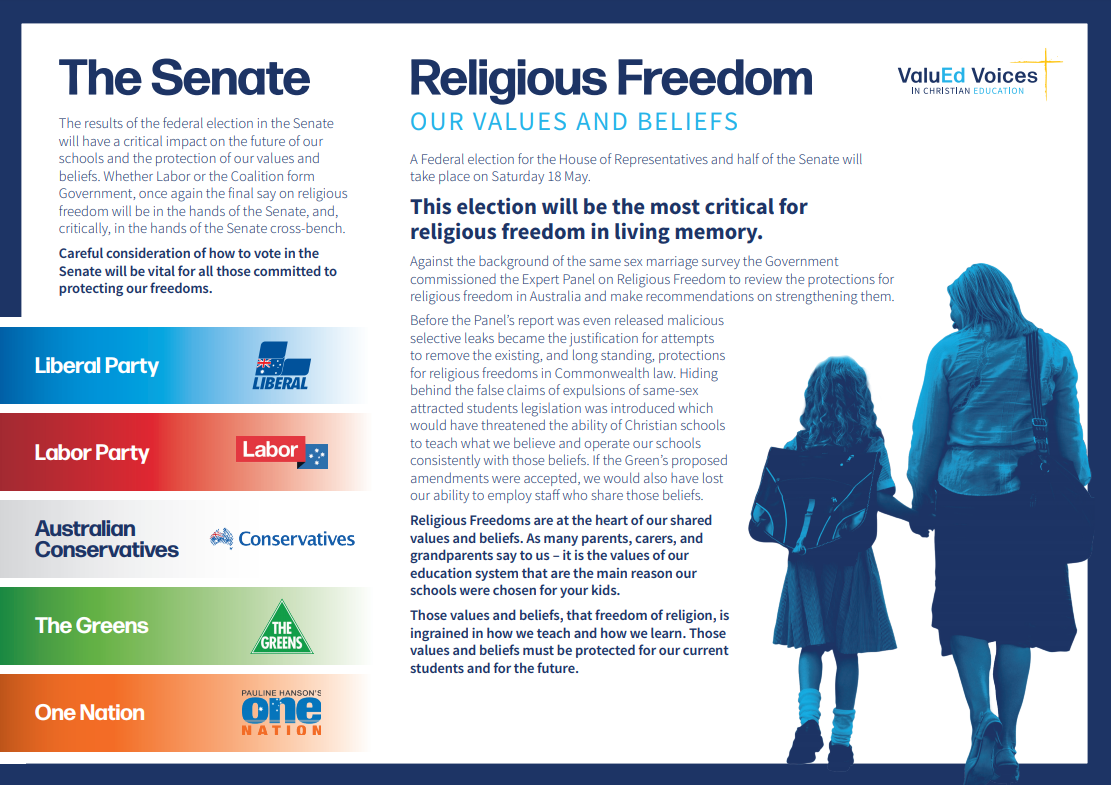 One page of the flyer distributed to Christian school parents.
CSA executive officer national policy, Mark Spencer, told EducationHQ that potential provisions allowing Christian schools to manage staff behaviour would not be adequate.
"We want people who are committed Christians 24/7 and believe our beliefs, share our beliefs, live them out without any fear or favour and are able to share them with students," he said.
Spencer said that he wants to avoid the institution of a de facto 'don't ask, don't tell' policy.
"We think that's really problematic, and frankly, I have some sympathy with the LGBT activists who point out how difficult that makes it for staff.
"To be able to come and teach and work and be what a teacher is ... you're not teaching from a textbook, you're sharing who you are and the whole of who you are to students, relaying to them and talking about a whole range of things.
"To have to try to be one person at school and a different person outside school, that would be incredibly fraught and that's not what we're wanting.
"We want to be able to ensure that staff have that continuity and consistency across all of their life."
Under the Charities Act, CSA may compare or critique the specific policies of political parties, but is not permitted to promote or oppose the parties themselves.
The flyer distributed to schools does not explicitly tell parents how to vote.
"We generally don't take a partisan view," Spencer said.
"On this issue, the assurances we've got from the Coalition have certainly given more comfort to our people and more clarity to our schools and their communities than we've currently received from the opposition."
While Spencer said that CSA has kept schools informed during previous state and federal elections, he acknowledged that this campaign is unusual in its scale and coordination with other organisations.
"The ability to employ staff who share and live out and can communicate and teach our values and beliefs is really at the heart of who we are as Christian schools..." he said.
"It's a fundamental issue. It's who we are. If we can't be Christian schools, we might as well not be schools. There's lots of other good schools out there."