Historically, its use in schools takes the form of a spanking, belting or blows from a strap, paddle or cane.
While many thought it reasonable to believe that this form of punishment is a thing of the past, since Kevin Donnelly made comments earlier this month alluding to his nonchalence about bringing back the strap, the debate has once again come under the national spotlight. 
Most states and territories in Australia have outlawed corporal punishment in schools, labelling it archaic and excessive. However, there are still several schools using the practice as a form of punishment.
REBECCA VUKOVIC investigates the issue and speaks with one senior academic who felt compelled to write an open letter to Christopher Pyne expressing her dismay at Donnelly' comments. She also takes a closer look at the leglislation regarding the issue and how our leaders have reacted.
---
Corporal punishment OK: Donnelly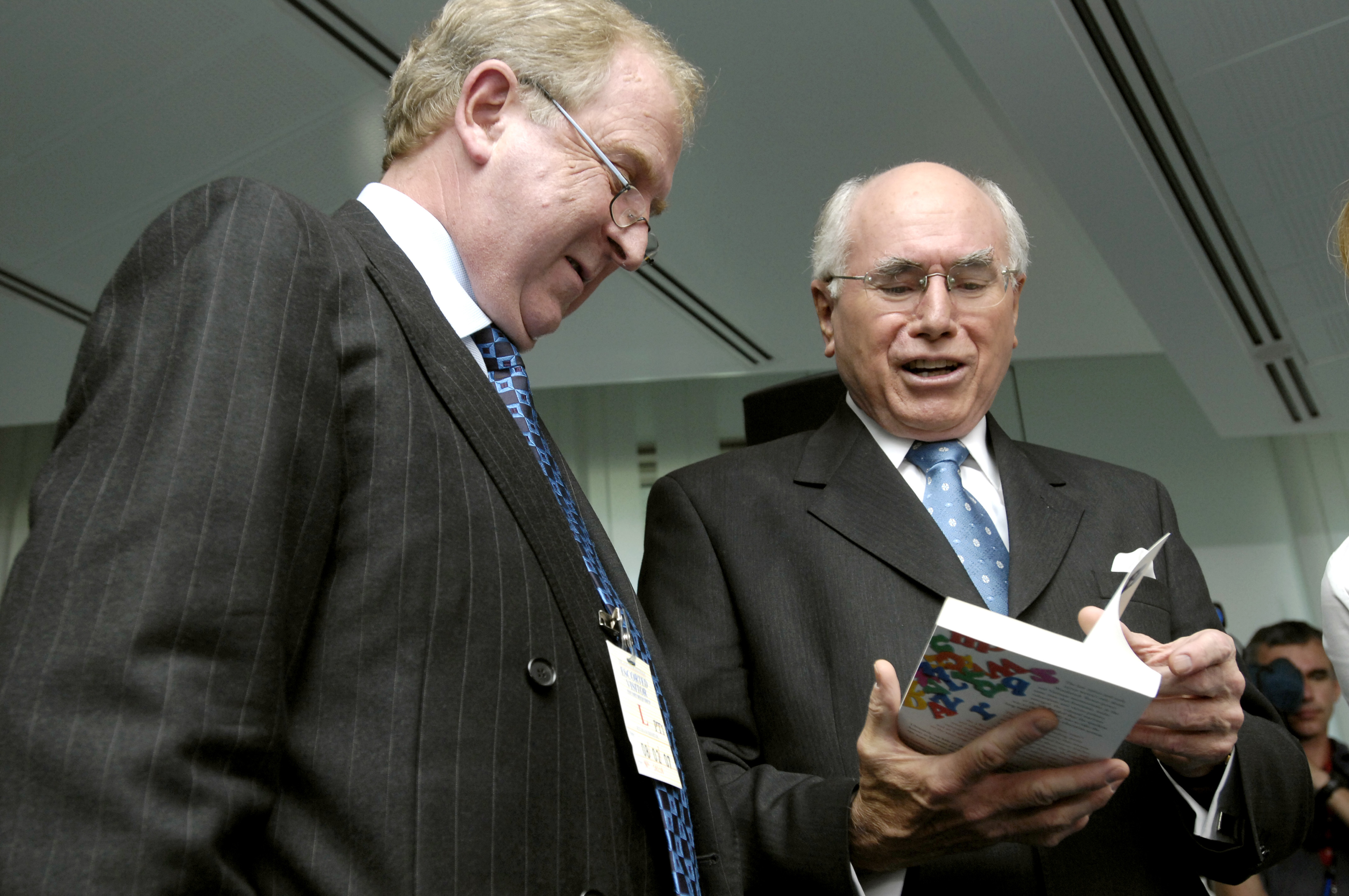 THE Abbott Government's head of the national curriculum review, Dr Kevin Donnelly, shocked radio listeners with the suggestion that he had no problem with the idea of bringing back corporal punishment in schools as a form of discipline.
While chatting to Justin Smith on 2UE's Drive show, Donnelly was asked what he saw to be the best form of punishment for dealing with unruly kids. 
"I grew up in Broadmeadows in a sort of housing commission estate in Melbourne," Donnelly responded.  "And we had a Scottish phys-ed teacher and whenever there were any discipline problems he would actually take the boy behind the shed and say, 'well, we can either talk about this or you can throw the first punch'. 
"That teacher would probably lose his job now but it was very effective. I mean, he only had to do it once and the kids were well behaved for the rest of the year."
When asked by Smith if he sees any merit in the practice, Donnelly responded: "If the school community is in favour of it, then I've got no problem and if it's done … you know … properly."
It was those few comments that sparked immediate outrage on social media from the general public.
The spotlight was then shone on the Abbott Government, with several senior politicians from all sides of politics calling for Donnelly's immediate resignation. 
However, Federal Education Minister Christopher Pyne was quick to respond, saying Donnelly's views are a matter only for him.
"Dr Donnelly, along with professor Ken Wiltshire, are undertaking a review of the national curriculum which has nothing to do with managing student behaviour," his spokesman said.
Senator Penny Wright of the Australian Greens called for the termination of Donnelly's employment.
"If the Federal Government truly does not support corporal punishment in Australian schools, they should terminate Dr Donnelly's employment," Wright says. "The Abbott Government needs to stop the weasel words — they cannot dodge responsibility on this."
Wright says that Pyne has givenDonnelly a very powerful platform — and a degree of legitimacy — to advance his many unorthodox views and shape the curriculum.
"Minister Pyne should now take that platform away because Dr Donnelly's endorsement of corporal punishment is unacceptable. His views belong to another century. It's very clear Minister Pyne showed extremely poor judgment in picking Dr Donnelly. Minister Pyne should admit his mistake and ask for Dr Donnelly's resignation today," she added.
Donnelly's co-chair of the curriculum review,  Kenneth Wiltshire, also publicly disassociated himself from the comments supporting corporal punishment in schools. 
The professor of Public Administration at the University of Queensland penned a letter to the Sydney Morning Herald. 
"I can also confirm that neither the Australian curriculum itself, nor the current review of the curriculum, is linked in any way to the topic of corporate punishment or any other school-based practices of this nature," he said.
"They are a matter for school management and state and territory jurisdictions."
Corporal punishment has been outlawed in several Australian states and territories for almost two decades. In 2012, the Australian Government stated that it "does not endorse" corporal punishment in schools. 
In 2011, it launched the National Safe Schools Framework which promotes children's safety from violence in schools and was endorsed by all education ministers. 
---
'We're calling on minister to show leadership'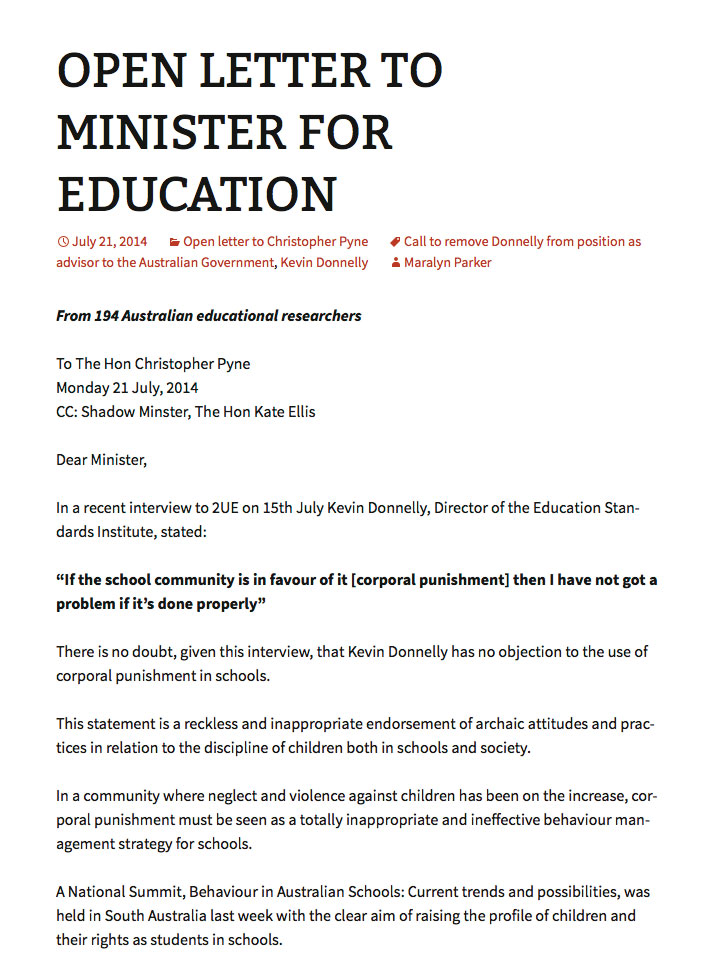 ON the same day Kevin Donnelly's controversial comments regarding corporal punishment in schools were broadcast over the airwaves, a national summit on behaviour in Australian schools was being held in South Australia with many education researchers in attendance.
University of South Australia senior lecturer  Dr Anna Sullivan, who was also the convener of the three-day summit, says the event brought together researchers from around the country who relished the opportunity to discuss the rights of children in schools in relation to their behaviour. 
One of the summit's keynote lectures came from Megan Mitchell, the National Children's Commissioner, who took a human rights perspective on the issue and drew upon research to pose the question, 'what are the alternatives?'
"On the day that Megan Mitchell had her public lecture, the Sydney Morning Herald ran an article on that lecture and that afternoon on 2UE, Kevin Donnelly was asked to comment on aspects of that in response to that article," Sullivan tells Australian Teacher Magazine.
"That night I got home and looked at Twitter and thought, 'Oh my goodness, what's going on?' Everyone went crazy."
The following day, the conference continued with an emphasis on critiquing a lot of the punititve approaches that are used in schools to control kids' behaviour. The participants were looking at alternatives to such punitive approaches which focused more on engaging kids, treating them well, making them feel safe and trying to get all children engaged in their learning in a more successful way.
"After that day, just reflecting on the whole summit, we thought, 'if the senior education advisor to the Federal Education Minister is commenting that if a school community is in favour of corporal punishment, then he has no problem with it if it's been done properly', we thought that was unacceptable," Sullivan says.
As a result, she felt compelled to draft an open letter the Education Minister Chris Pyne calling for the removal of Kevin Donnelly as an education advisor to the Federal Government. She then forwarded it to several of her colleagues to garner their support. 
"It started on the Friday and by Monday we had 167 signatures of some of the most senior academics in education in Australia," Sullivan says proudly.
"If you've seen the list, the actual letter had I think 31 professors and then another 20 or 30 associate professors, that's quite amazing and people have continued to sign it. So there are over 200 signatures on there now."
The letter also called on the government to amend legislation to ensure that the children of Australia were protected from all forms of corporal punishment in schools.
"We wanted two things from the minister," Sullivan explains.  "We wanted to remove Dr Donnelly from his position as advisor because we believe that a senior education advisor should not be condoning corporal punishment in any way, even if it's in a limited way, and that had widespread support. 
"And we're also calling on the minister to show some leadership by amending the legislation so corporal punishment is no longer a viable option in any schools across Australia.
"We understand that's up to the states and territories but we have quite a few of those and so many differences, so we're calling on the minister to say, he doesn't endorse it and do something about it then because it's still happening to some kids in Australia. That's not acceptable," she says.
In his response to the entire debacle, Minister Pyne has said he won't ask Donelley to step aside because he doesn't see a connection between curriculum and behaviour, which Sullivan says is disappointing.
"That's unfortunate because if he consulted with the research and if Dr Donnelley consulted the research which he should as an advisor, then he would clearly know that's there's a clear link between the curriculum and the pedagogy and engagement and therefore behaviour. 
"It is ill informed for him to dismiss the connection between curriculum and behaviour."
The United Nation's Convention on the Rights of the Child, of which Australia is a signatory, says state parties, like governments, should take all appropriate measures to ensure that school discipline is administered in a manner consistent with the child's human dignity.
"I would question how some schools in Australia are still using corporal punishment and not breaching the United Nations' rights of the child," Sullivan says.
---
Discipline policies spotlight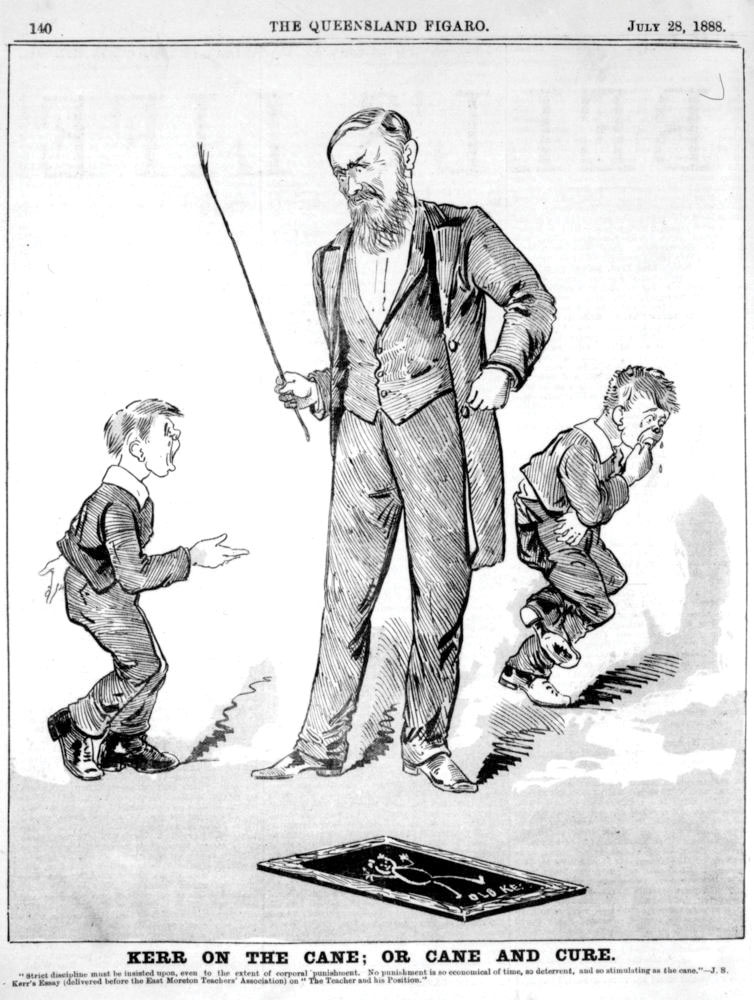 SEVERAL Australian schools that still use corporal punishment as a form of discipline have fallen under the national spotlight following the heated debate about the merits of the practice. 
In Western Australia, the Department of Education Services, which registers private schools in the state, confirmed that Bible Baptist Christian Academy in Mt Helena and Perth's Nollamara Christian Academy still had corporal punishment in their discipline policies.
The body also regulates the use of the cane in non-government schools in Western Australia and says that such schools must notify parents prior to enrolment and keep records of all corporal punishment administered. 
"In the very rare case of a school that uses corporal punishment as part of its overall policy for managing student behaviour, Independent School Reviewers will view evidence demonstrating how this is made known to prospective parents prior to enrolment," it reads in  the Registration Standards and Requirements 2014 document published by the body. 
"Independent School Reviewers will also view documented procedures and records of all corporal punishment administered."
The Bible Baptist Christian Academy says in its parents' handbook that corporal correction should be carried out by a parent in the presence of a staff member.
"A reasonable number of firm strokes, not to exceed six, would be administered by a parent using a simple bamboo stick," it said.
Nollamara Christian Academy's Pastor Roger Monasmith, who has run the school with his wife for nearly 30 years,  says a small paddle "like a ping-pong bat" was used as a rare form of discipline for the school's 18 students.
Monasmith says the cane was never used in anger and every parent had to sign an agreement about corporal punishment before enrolling their child.
The Department of Education Services says both of these WA schools, which have fewer than 35 students each, would review the policies before the end of the year. 
Some reports have also suggested a third school, Grace Christian School in Bunbury also uses corporal punishment, however, a spokesperson told Australian Teacher Magazine this was untrue.  "Grace Christian School removed corporal punishment from its policies a couple of years ago," they said. 
Despite opposing corporal punishment, WA Education Minister Liz Constable said she wouldn't do anything to stop it. She said it was up to parents if they wanted to send children to "the very few schools" that still used the cane.
While corporal punishment is not explicitly banned in Northern Territory government schools, there have been no reported instances of it being used of late. In Queensland, the legislation for government schools is ambiguous, however non-government schools are still able to use the practice in their discipline policies.
Similarly in South Australia,  while there is repealed legislation that allowed its use, it is not explictly banned in either government or non-government schools.
---
Corporal punishment and the law...